Love Learning from Home
Apr 21, 2021
The past twelve months have been rough on just about all of us! We could talk for days about the range of emotions felt by the veterinary community in the era of COVID. Thankfully, there were still some things we actually liked in 2020! Pistol Pete and his crew rediscovered their love for nature trails, bird watching, and days at the river. We learned how to brew the perfect pot of coffee and practiced our best Paul Hollywood impressions while baking up a storm. And who could forget – curbside visits! As far as we're concerned, those can stay forever.
There's one more thing we loved about 2020 – webinars! If not for COVID, we may never have taken the time to learn how to plan them, might never have attended one, and would have never known how much fun they can be! For one, they're great for introverts. You can interact as little or as much as you want. Two, you don't have to leave pets behind to go to a conference! They can watch with you. Three, you get to learn wherever and whenever you want! Parks, beaches, your backyard – if there's a cell signal or wifi, your favorite relaxation destination becomes your classroom!
We promise to continue making learning fun and flexible; check out our upcoming webinars and in person conferences or an on-demand video course today!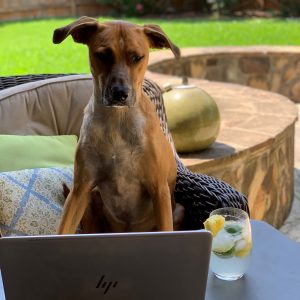 Before we go, here are our tips for pumping extra enjoyment into your next webinar:
Snacks! Stock up on your favorite snacks or bake some at home. Try these 41 snacks for working from home.
Drinks! The right drink can help you stay hydrated, stay focused, or just add some fun to the day. Try one of these mocktails to mix up your routine!
Build your oasis! Create a spot to be exactly what you want it to be. Choose a room with a view or sit outside. Get a comfy seat, maybe add a seat for pets to join you. Grab a notebook, snacks,
your favorite drink, and you're ready to learn!
Share a picture of your webinar oasis (bonus if cute animals are included)! Tag us on Facebook, Instagram, or LinkedIn or email us at [email protected]
We'll see you online at our next webinar!